Easier social content creation for your business
GeoBooster turns your entire team into content creators.
Get Started Now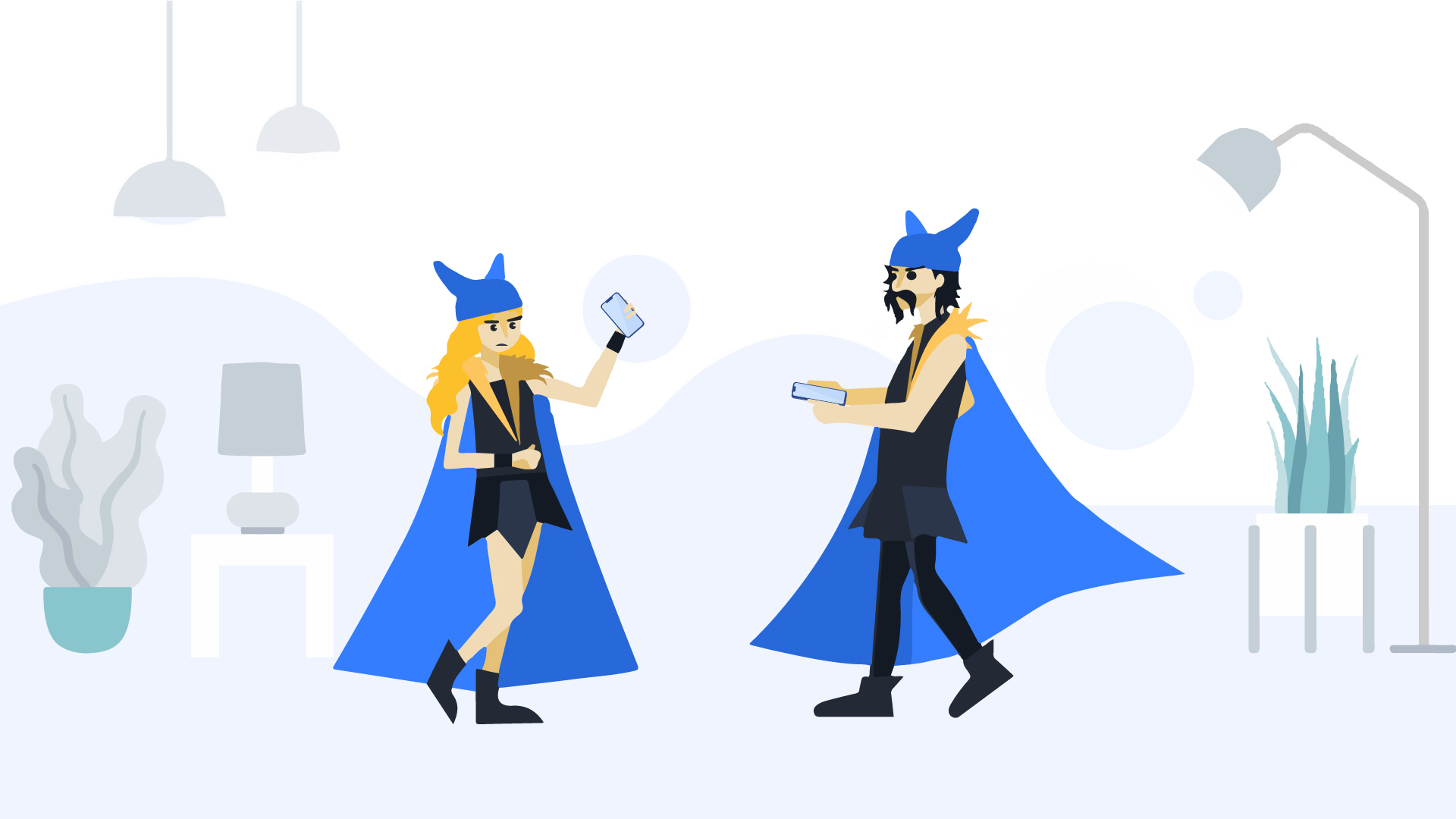 Publish more content, more often
Be Discoverable
Start Increasing your online visibility today
Create Anywhere
Social media content on the go
Multilocation Support
Built to support franchises
GeoBooster is the culmination of three pieces of technology (native mobile application, wordpress plugin/embeddable javascript, localviking web application) developed to make content creation and publishing easy for businesses of all sizes.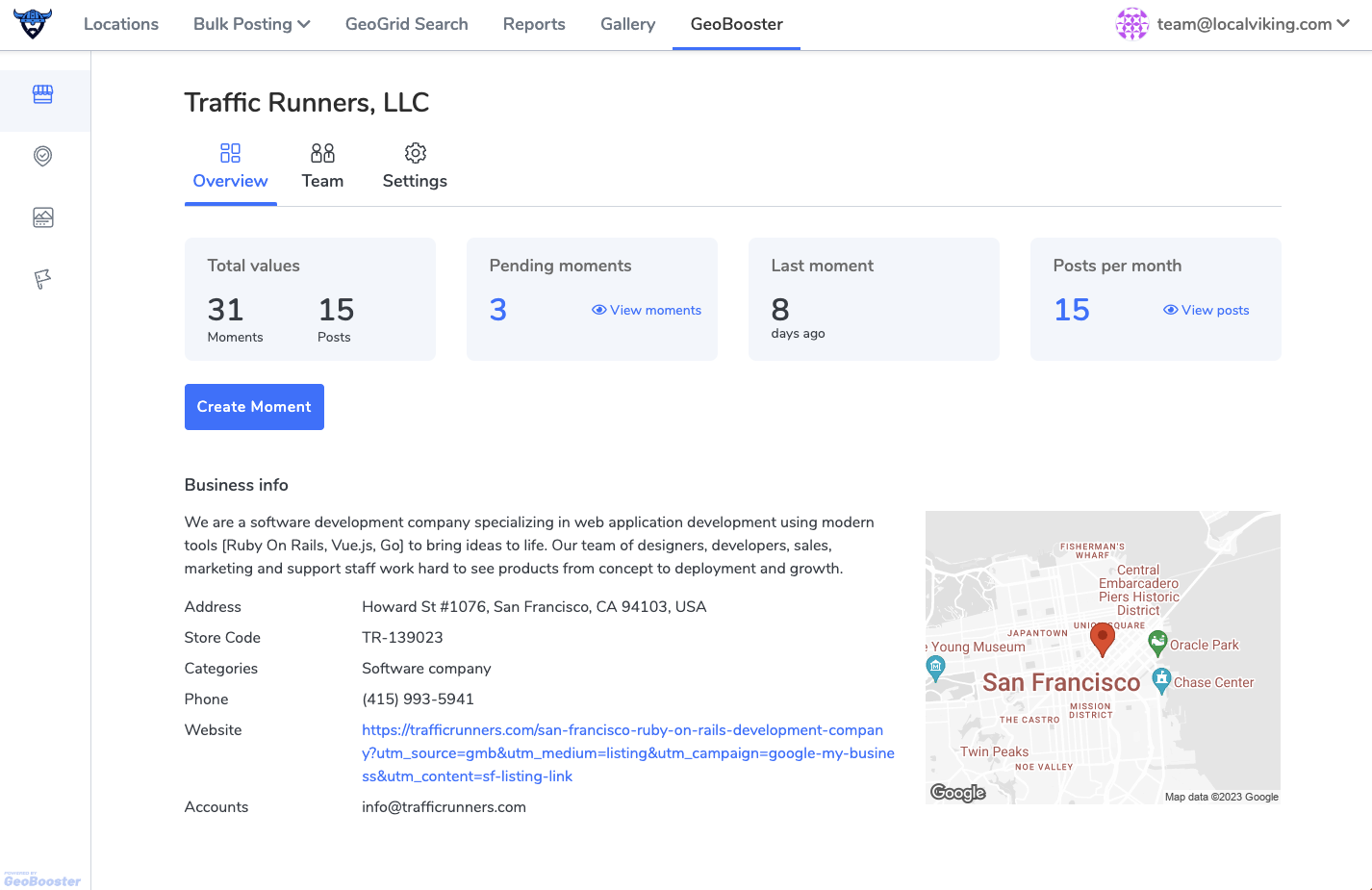 Manage Content From One Place
Moderate content from your team members before it gets published, choose where GeoBooster comments get published and see who is publishing the most content for your business.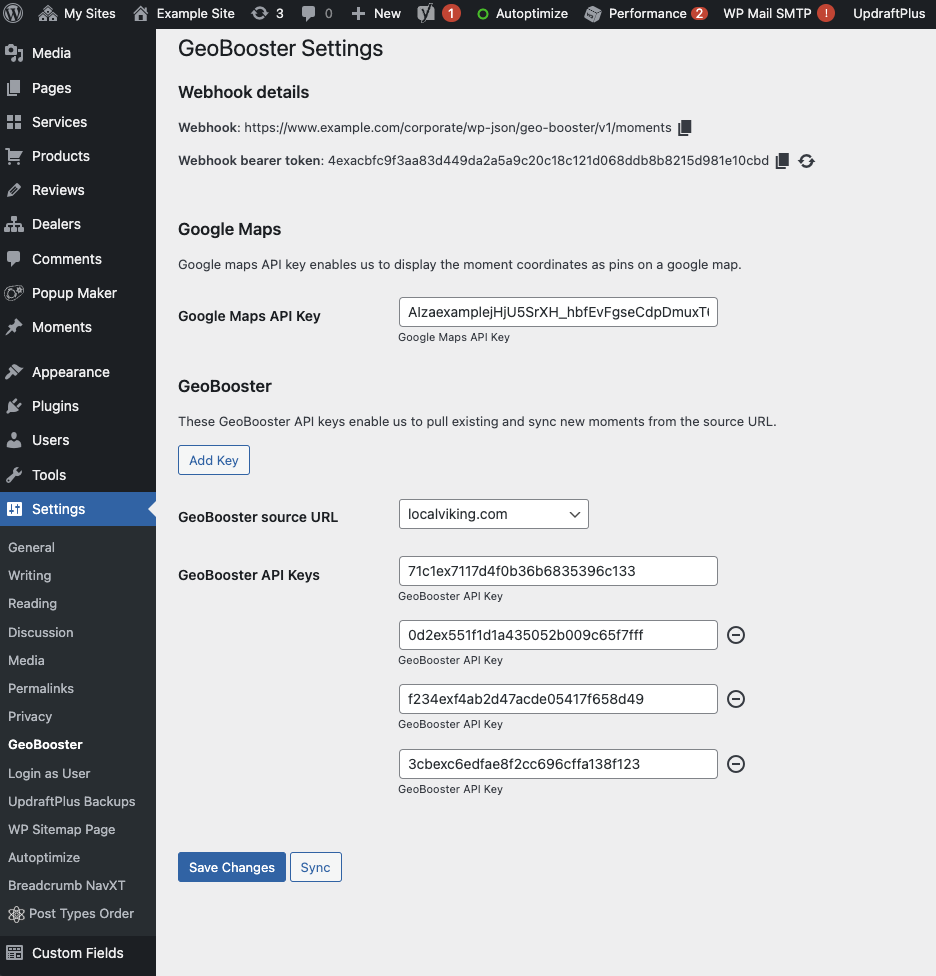 Native WordPress Plugin
Integrate GeoBooster moments directly into your WordPress site with our Plugin that supports shortcodes for dynamic content publishing across your pages.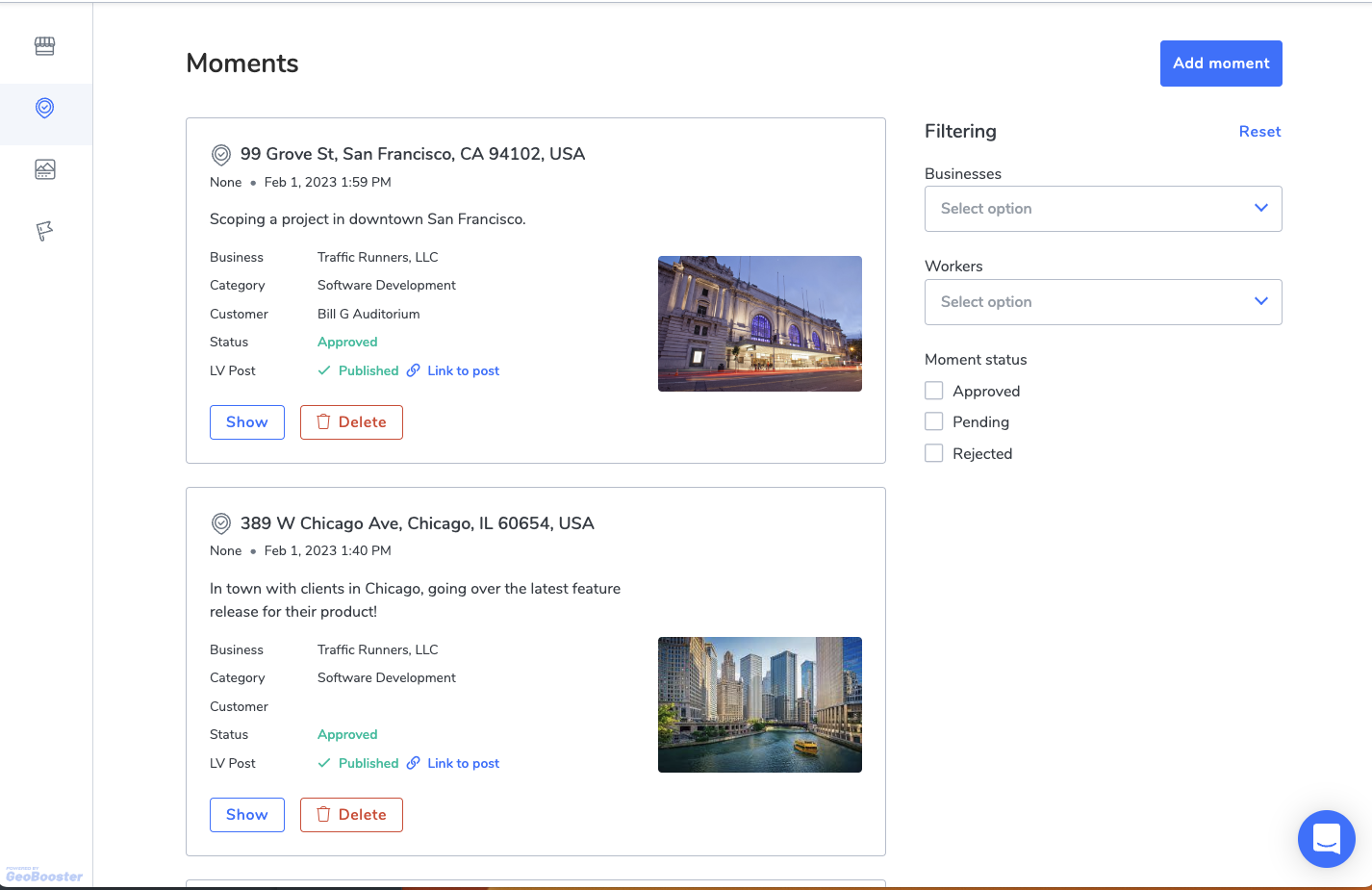 Create Moments From Anywhere
Moments are what we call the content created in the mobile app - usually made up of a few short descriptive sentences about a job, product or service that you provide, alongside one or more photos (before/after, etc).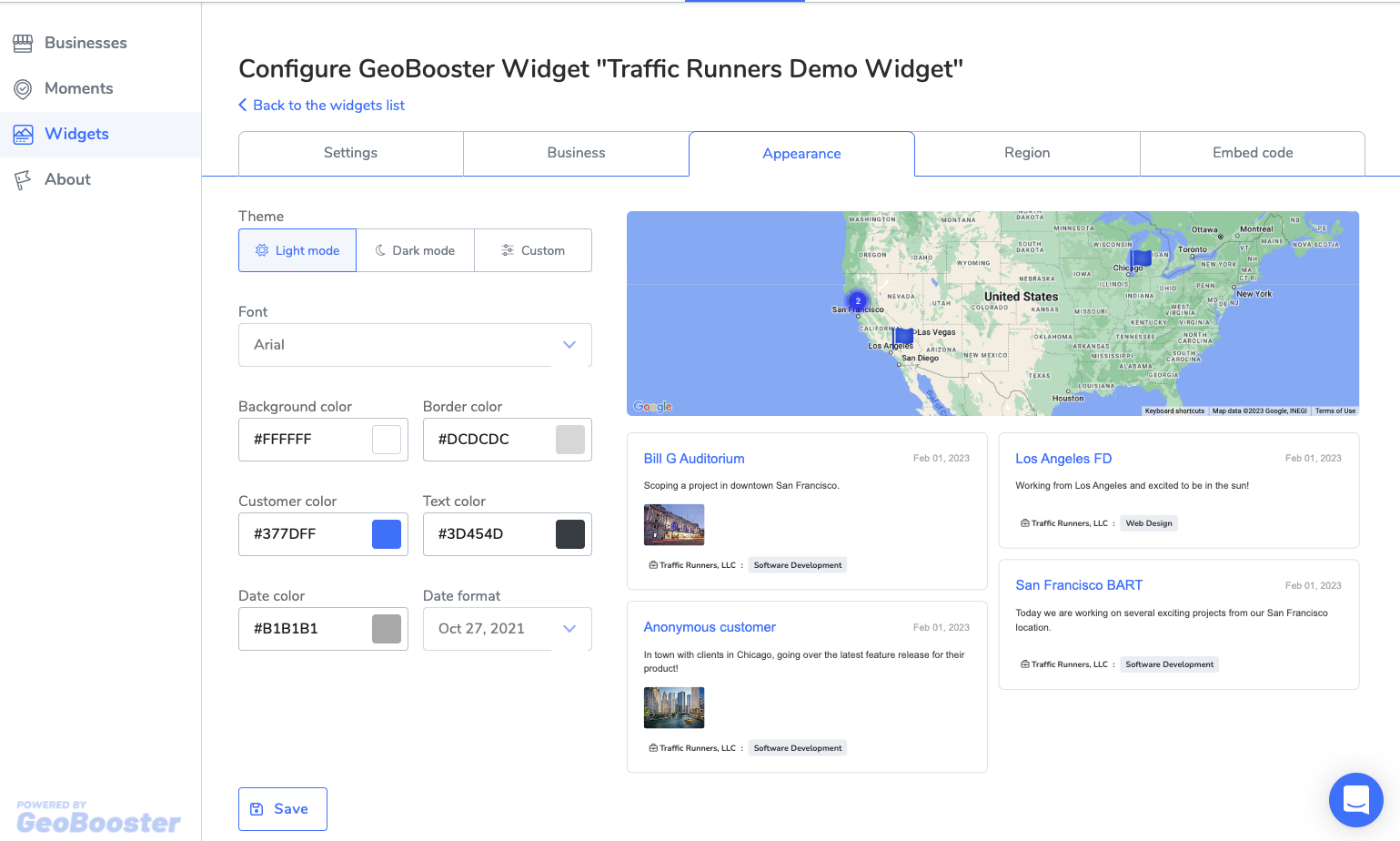 Not On Wordpress? No Problem
The GeoBooster javascript widget enables anyone to embed GeoBooster content on any website or web page on the internet. Smart configuration options mean an easy no-code solution for installation.
Leverage a hyper local content generation system in your clients business that produces media, content, and increases rankings
Create a perpetual content creation system using impactful moments from your clients business with our white label mobile app and plugin.
AI content and offshore shops have stifled the authentic voice of businesses everywhere.
With the commoditization of SEO it's become a race to the bottom. Content budgets for local business are either pushed back on the busy business owners or capsized at the bottom of the agencies deliverables.
One blog post per week? Once per month? Here are some impersonal topics provided by some keyword tool. We present an end to the perpetual mediocrity of local content marketing, a better way to create hyper-local optimized content and media that will increase visibility, rankings, all while amplifying a businesses personality and voice, by showcasing their hard work or artisan products.
If a picture is worth a thousand words then seeing GeoBooster work live might just leave you speechless. Please, take two minutes to watch the video below and witness the power of GeoBooster.
Setup Is Simple
Have your clients download your branded mobile app and install the Wordpress plugin on their website (optional). They can have as many of their staff download as they please.
Allowing for creative marketing across all industries, have them use the app to take pictures and make posts of their new menu items, before and after pictures of jobs completed, customer testimonial videos, and so much more.
The content is added to their website, GBP(formerly GMB) and other social channels of their choosing. Media is geotagged and placed on the site intelligently in contentful posts or widgets.
Create rules and structure for your clients content to have complex conditions or super simple deployment. GeoBooster programmatically wraps your clients content in schema makeup before deploying to the site.
Have fun ideating with your clients (feel free to swipe our ideas too) and put this perpetual content machine in motion. While your competitors are editing offshore articles and pushing out robotic AI powered bore fest posts, watch as your clients' customers connect with their content and business like never before.
Designed for the Non Technical
The configuration opportunities are there for you to create complex, ultra intelligent content conditions but on the front end, it's designed for everyday people to be able to pick up and produce.
We developed this tech to put the power of the business voice into the hands of the business, not to create another technical position that needs to be filled.
White label training is available in your dashboard you may swipe or use as a guide to create your own. End to end, with plug-in configuration and mobile app activation, you're looking at 20 minutes or so worth of setup. That's it.
Priced for Accessibility and Democratization
The last thing agencies need is a bunch of new expensive tech to add to their overhead. You love helping businesses but you're in it to make money too, right?
This is why instead of creating a bank breaking tool that cuts into profits we developed a product you can sell inexpensively and make great markups or just bundle into your current offering and look like a rockstar!
Most platforms also charge huge white label setup fees and recurring bills to keep your white label alive. It's not uncommon to see setup fees range from $1000 to thousands of dollars per year.
We charge a minimal one time setup fee for your white label app deployment, only $$$. If you're onboarding more than x clients into your app, we will waive that fee completely. This is NOT a recurring fee. One time only for our team to set up your white label app and deploy it.
GeoBooster license is free for Pro and above billing plans. Other subscriptions users get GeoBooster for $10/location.
Examples by Industry
See how GeoBooster is being used in particular industries
Feature FAQ
Frequently Asked
Questions
GeoBooster license is free for Pro and above billing plans. Other subscriptions users get GeoBooster for $10/location.
Yes, GeoBooster comes with both a native iPhone and Android mobile application so you or your team will be able to use the application.
Yes, the GeoBooster javascript widget can be embedded on any webpage or website on the internet and it's nocode configuration means anyone can get it set up and installed.
GeoBooster 'Moments' can be configured to be shared across Google My Business (GBP), social media (via Zapier) and any website or webpage.
We understand that not every business wants every employee to be posting onto their social media channels freely. Set up user based moderation so you can choose who's content gets published immediately and who's needs to be edited.
Yes! Revelant and fresh content, constantly updated to your target website pages sends Google and other search engines the signal that your business is active and providing a product or service in a particular location.